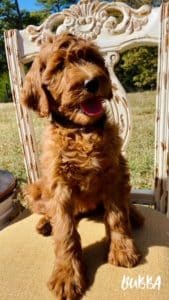 Goldendoodle Puppies for sale – 2 yr Health Guarantee
Welcome to Platinum Goldendoodles, where we raise top quality, happy, healthy, and well socialized Goldendoodle Puppies!
At Platinum Goldendoodles we are committed to raising quality Goldendoodles! We strive to produce goldendoodles that have wonderful temperaments and loving personalities.
We focus on making sure that all our puppies have the best care possible . By working with two local veterinarians, Dr. Jones and Dr. Chevallier. These two doctors help to make
sure that our puppies are given all the proper care needed.  All our our puppies come with a 2 year Health Guarantee, have been vet checked, come up to date with all their shots, and have been
wormed on a regular basis.
After we have a litter of Goldendoodle puppies born, we make sure they get thorough socialization. Platinum Goldendoodles is located in the rolling hills of the Ozark Mountains in Arkansas were we
are able to raise all our puppies on our farm. This helps in making sure that our puppies get lots of exercise, running and playing with all the other farm animals. We are also blessed to have a little boy that
loves to spend time playing with all the puppies. So, I guess you could say…they are kid proof Goldendoodles!
We have been raising this wonderful breed for many years, and have a wonderful customer base.  We have also been able to provide service and therapy dogs to several of our clients.
Check out our facebook page and you can see for yourself what kind of puppies we raise and lots and lots of past customers comments, photos, etc.
Depending on your need, we have different sizes of Goldendoodles and different crosses as well. So, if you would like more information about our puppies, please just give us a call at 501-514-1026 or shoot us
a message and we will be glad to answer any questions you may have.