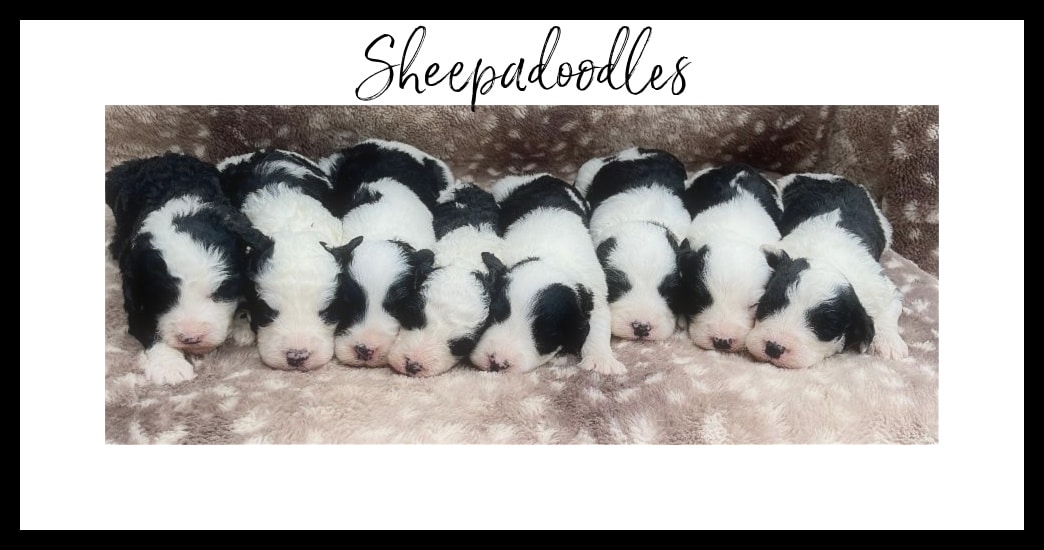 Standard Sheepadoodle Pricing & Deposits
To see our puppies that are ready today and available to go home now, please go to our Available Puppies page.
We are now excepting deposits on our litter of F1 Standard Sheepadoodles. Our deposit is $250, it is non-refundable, and goes toward the total price of your puppy. You can use the "Pay Now" button on our payment page to send a secure deposit through PayPal using your credit or debit card. You do not need to have PayPal to place a deposit through there.
If the puppy you want is not available when it is your time to choose, then your non-refundable deposit goes towards a puppy of your choice in the next litter. All you have to do is click the "Pay Now" button on this page, and it will take you to the secure PayPal website so you can pay… this protects us and you.
Just a reminder, as always, we cannot guarantee exact timing for litters being born or take home dates for puppies when you are placing a deposit on future litters.  We also cannot guarantee specific colors, coat types, litter sizes, or successful breedings. BUT we do our best to give you the most up to date information and expectation of what we have coming up! Typical pricing looks like this: solid black $900 (which we don't have much colored like this due to our sires having exceptional coloring traits), Reds, Apricots, Abstract or Mis Marked, Merles, Creams, Black, and Phantom. Pricing is determined based on size and color. Our standards typically run $1200 to $1800, Mini and Micro Minis $2000 to $3500 depending on the markings and sizes. We raise F1, F1b, and multi generational.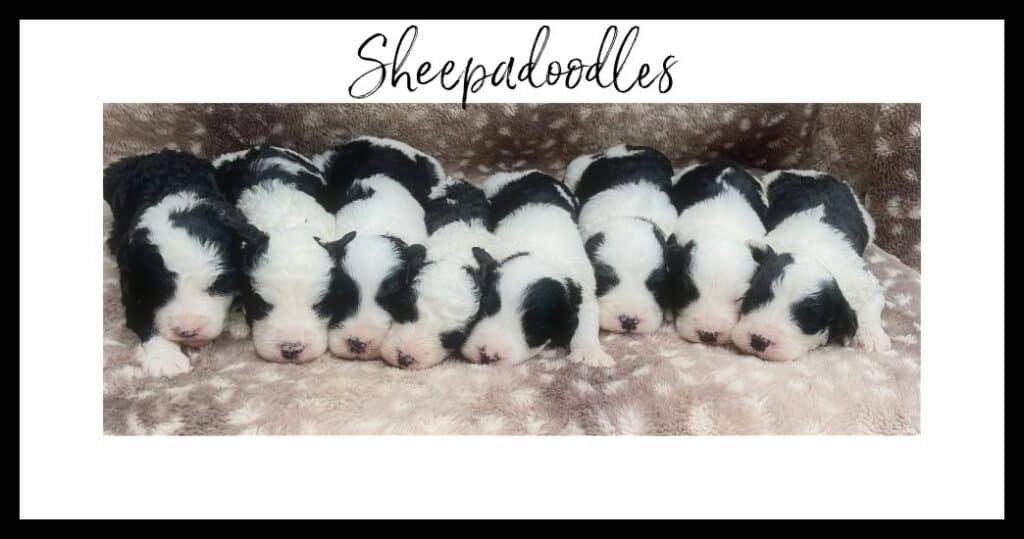 Sheepadoodle Puppy Deposit
Get ahead of the crowd! Place a deposit for a Sheepadoodle puppy from an upcoming litter here.
How Does Our Puppy Selection Process Work?
For future litters: When the selection process starts, you will be notified that it is your turn to select a puppy. You will have up to 8 hours (less is better for everyone) to let us know which puppy you decided to pick or pass. If you do not contact us, it will be assumed that you are passing on a puppy from the litter(s) and waiting for the next selection process to start on the next litter. Since you may have several people behind you waiting to select a pup, we ask that you be ready to choose, so that we show respect for everyone waiting in line! From the date you place your deposit, you will have up to eight months to select a puppy. If you have not done so in that time frame, then it will be considered that you no longer desire to purchase a pup from us and your non-refundable deposit will be forfeited. ( If for some odd reason we do not have a puppy of your breed available during that time frame, we will reach out to you and either refund your deposit or wait until we have a litter available). Once you have selected a puppy, then your total deposit goes only toward the puppy you have chosen.
Shipping/Delivery Details:
If you are picking up your puppy in person you can either pay the remainder of the price via PayPal, Credit cart or bring the remainder of payment in CASH. Sorry, we do not accept checks or money orders.

*If you are unable to pick up your puppy when it is ready to go home (which is the day it turns 8 weeks), or are in need of us holding it for any amount of time (due to vacation, work, school, family, scheduling conflict, or etc.), it will be an additional $20 a day. This option is only available based on our availability and must be agreed upon by us in writing via email. Purchasing a puppy can be fun and exciting! We strive to make the process as stress free as possible! Please contact us if you have any other questions!
If we will be shipping the puppy to you, we will invoice you for the remainder of your puppy plus the shipping charges the week before your puppy ships. Your invoice must be paid in full in order for us to ship your puppy.
Standard Sheepadoodle Litters Deposit List:
1. Tracy O. from Oklahoma: Standard Sheepadoodle Puppy Deposit