New arrivals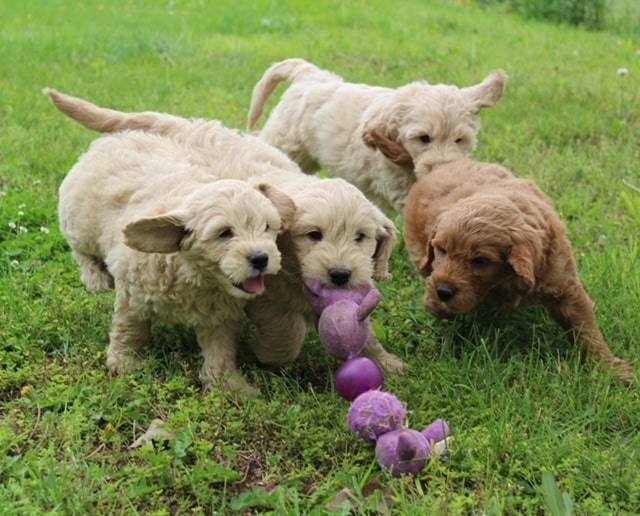 We are committed to raising top quality Goldendoodles
Goldendoodles are designer dogs bred not just to be cute — though they certainly are! — but also to be excellent pet and companion dogs. The Goldendoodle puppies you adopt from us have wonderful temperaments: friendly, active, intelligent, and trainable.
Breeds
Raised With Love
Platinum Goldendoodles Doodles is located in the rolling hills of Arkansas, and all our puppies are raised on our farm with our little boy who absolutely loves to make sure that each puppy is loved. After years of producing exceptional puppies, we know that our reputation speaks for itself. Careful breeding, excellent care, and a wholesome environment produce Goldendoodle puppies you will enjoy welcoming into your family.
Healthy puppies also need attention and socialization. Socialization ensures that your puppy will be a well rounded puppy — a happy, fun puppy.
Great Temperament
Doodles don't know the meaning of the word "stranger", which makes them an ideal choice as a family dog.
Health Guaranteed
All of our Goldendoodle puppies get a complete vet check, have received their fist round of vaccine shots, and have been wormed on a regular basis. We are so confident of the health of our puppies that all our puppies come with a two-year health guarantee.
Highly Trainable
These pups are the perfect pairing of two intelligent breeds. Goldendoodles crave learning and are eager to please making them a great training partner.
We have a true love for this smart, loving breed, and we believe that you will, too.
People of all ages love Goldendoodles. They make ideal 1-to-1 companions or furry family additions. If you're looking for a pup who is going to love you as much as you love them, a Goldendoodle is the perfect place to start.
We take great pride in making sure that our clients find that just right puppy for their families.
And we LOVE to talk about our puppies. So, if you would like more information about our puppies, please give us call to discuss your preferences and our upcoming litters.
Platinum Goldendoodles on Tiktok