SOLD OUT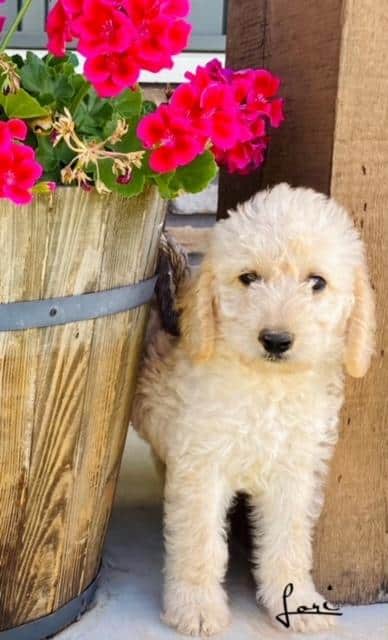 Lori
$1,800.00
Say hello to Miss Lori, she has more of a curly coat and is going to be both non shedding and easy on allergies! She is a doll, with a fun loving personality. She is a people pleaser for sure and will make some the very best friend.  She is working on doggy door training and will make the perfect companion for any size family! She is an F1b medium size Goldendoodle girl and is a great with other dogs and kids.  She loves the outdoors and exploring, but most of all  long naps after brunch.  She will make a great traveling buddy and is great with other animals and children too! She has been raised around animals and children. Lori is the type of dog that learns fast, and aims to please. With proper training she could easily become a service of guide dog.
Remember she is going to be medium size, so approximately 45 lbs of so full grown. She is also going to both low to non shedding and easy on allergies. She has been exposed to being both indoors and outside, so she will adjust great with her new family.  Her mom is a goldendoodle and her dad is a poodle, so therefore she is considered and f1b. This type of cross helps both with allergies and shedding.
Scroll down to make a deposit, or just pop Lori into your cart!
Contact us https://www.platinumgoldendoodles.com