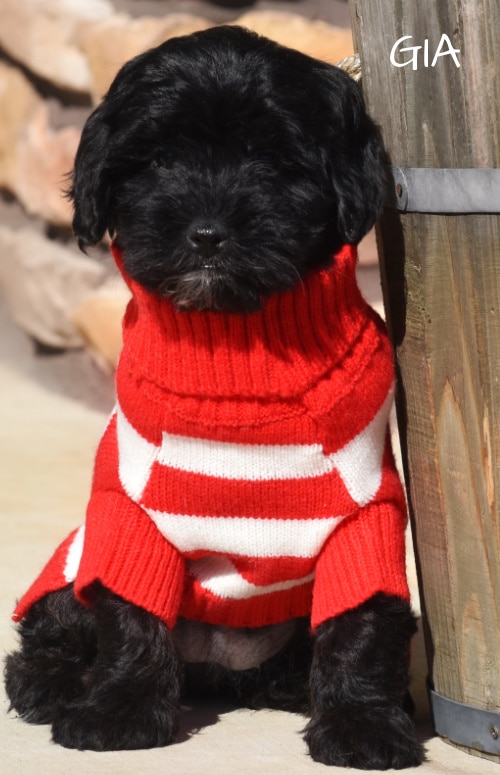 MINI BLACK GOLDENDOODLES
When considering adding a new puppy to the family, there are lots of things to consider. Such as, size, temperment, allergies, shedding, personality traits, etc. But have you ever thought about color? Well, in the Goldendoodle world you cand get a mix of all colors. That's becuase this awesome breed can inherit lots of differnt color combinations from the Poodle used to produce the puppuies. Not to mention, this breed inherits the best traits of both parents, such as intelligence, loyalty, and playfulness, and is also hypoallergenic and low-shedding.
The Black Goldendoodles is a product of either a pure bred Retriever bred back to a Poodle that carries for black or if it's an f1b puppy one of the parents will be an F1 Goldendoodle bred back to a Poodle. If you love the color black, but hate all the shedding then this cross could be the perect fit. The black Goldendoodle ticks all the right boxes if you're looking for a nice breed.
Currently at Platinum Goldendoodles, we have a litter of amazing and unique Black Mini Goldendoodle's available. They are truly stunning, with deep black coats, and are sure to turn heads. Not to mention, they are mini's. This awesome litter is not expected to be bigger than 20 lbs. full grown. This is a perect size for families that love to take their family pet with them everywhere they go.
Take look at them on our Goldendoodle page under
Available Doodles!
We also encourage you to call us with any questions you might have. If you are wanting even a smaller size lap dog, check out our sisters over at
www.perfectpawpuppies.com