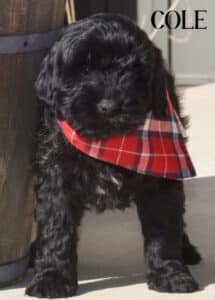 Black Goldendoodle: Things You Might Want to Know
Black Goldendoodles are one of the most popular Doodles in today's world.
Goldendoodles are often referred to as a great family because of their loving personalities and traits for being easy to train, and eager to please.
Plus they promise to be a low shedding dog. All of these qualities make the Goldendoodle one of the most popular family companion.
So much so that it's not uncommon to meet Goldendoodles daily at the Dog Park.
Designer breeds are all different, with the Black Goldendoodle becoming more and more popular in the world of Doodles!
The Black Goldendoodle has all the same great traits as the red, cream or apricot colored Golden doodle but in a less common color. Platinum Goldendoodles strives to raise some of the most stunning Black Goldendoodles on the planet, and we have succeeded. Don't believe me, then just take a look at Miss Fernie above, she is breath taking. Take a walk in the park on over to our Available Puppies page to see all Miss Fernies brothers and sisters!
You can also see some of our Goldendoodles at www.perfectpawpuppies.com a sister company that we are now working with to get more exposure into the dog world!